Please remember!
Edit
This is only inspired by LEGO and is fan-fiction and unofficial.
Welcome to the Custom Legoverse Wikia
Edit
This is a wiki focused upon ideas and characters inspired by LEGO but not part of the main LEGO multiverse.
The Legoverse
Edit
The Legoverse is a collection of Brikiverses (LEGO universes, such as LEGO DC Super Heroes, LEGO MARVEL Superheroes, LEGO City, LEGO NINJAGO, etc). Each of these Brikiverses hold dark and mysterious threats,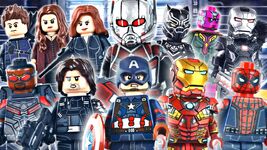 luckily there are many heroes ready protect their universes from that evil.
To any LEGO-fans who pass by,
I have only created pages for MARVEL and DC Comics because those are my 2 greatest passions. Therefore, I have not created pages for any other LEGO Themes but I'm hoping to in the future. That is unless you do that job for me. I would thank you very much for building on to my wiki.
Marvel Fan 291 (founder of Custom Legoverse Wikia)
Latest activity
Edit